Joyce Malicky Castle
---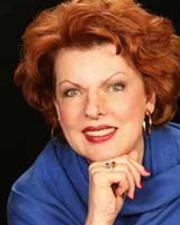 University Distinguished Professor
Biography
—
An extraordinarily versatile artist, American mezzo-soprano Joyce Castle has left an indelible imprint on the operatic repertoire which now includes nearly one hundred and forty opera roles in works by composers ranging from Bernstein to Wagner. Critics worldwide have recognized her unique combination of a "richly nuanced voice, profound dramatic skills and a superb sense of musicianship."

Miss Castle's portrayal of leading roles in contemporary opera has brought her singular success. Characterized as "a compelling actress in both comedy and pathos" in Michael Torke and A.R. Gurney's world premiere opera Central Park at Glimmerglass Opera (televised nationwide on WNET – Channel 13 and recorded for release by Ecstatic Records), acclaimed for her heralded as a "chillingly malevolent" Madame Flora in The Medium (performed at Opera Delaware and Central City Opera and released by Cedille Records), and recognized for her "marvelously sardonic" Claire Zakanassian in the New York premiere of Von Einem's The Visit of the Old Lady (in a New York City Opera production directed by Joanne Akalaitis which was mounted for her), Joyce Castle has employed her formidable vocal and theatrical gifts to sculpt distinctive and memorable characterizations.

Praised in the Denver Post for her performance as Elizabeth I in the American stage premiere of Britten's Gloriana, the critic wrote: "…Castle rules the show. Her voice is authoritative with a dark edge to it that makes Elizabeth the commanding presence on stage that she is." Miss Castle has also performed Mrs. Grose in Britten's The Turn of the Screw at Seattle Opera, Fort Worth Opera, and the Boston Lyric Opera, and Mrs. Sedley in Peter Grimes with Seiji Ozawa at the Maggio Musicale Fiorentino in Italy. She added the role of Madame Sosostris in Tippett's The Midsummer Marriage to her repertoire with The Boston Modern Orchestra Project at Jordan Hall in performances conducted by Artistic Director, Gil Rose.

Outstanding in her American opera experience, are her now legendary performances as Augusta Tabor in Moore's The Ballad of Baby Doe. Joyce Castle was cast as Augusta Tabor in the New York City Opera's production by the opera's most celebrated Baby Doe, Beverly Sills. Having performed the role of Augusta Tabor in seven productions of The Ballad of Baby Doe, and perhaps more than any other mezzo in the history of Douglas Moore's opera, Joyce Castle performed the role on the occasion of the 50th anniversary of the opera's première at Central City Opera House; a short distance from Leadville, the actual site of the opera's story. She has received critical acclaim from coast to coast for her portrayal of this complex character. Writing of her appearance in the Seattle Opera production, the Seattle Times reported "Castle's Augusta in Doe is superb… the Augusta of mezzo-soprano Joyce Castle is the definitive show-stopper of this production. Castle has every nuance of the role clasped in a fist of iron, and she knows how to command your sympathy for this character of missed opportunities. Vocally persuasive, emotionally compelling, this is a portrayal for the books - one in which every note and every gesture is so right that you want to salute her."

A popular Glimmerglass Opera guest artist, she returned to Cooperstown in summer 2009 to perform The Mother in Menotti's The Consul in a production directed by Sam Helfrich and conducted by David Angus. Miss Castle had previously performed the role with conductor Joel Revzen at Arizona Opera, New Jersey Opera, and at Berkshire Opera, where she also recorded her "poignant" portrayal for Newport Classics.

Continuing with her exploration of contemporary American opera, she performed both Dominick Argento's eccentric Madame d'Urfe in the heralded New York premiere of Casanova and the silent screen siren Alla Nazimova in The Dream of Valentino at the Washington National Opera. The mezzo-soprano has also performed the Baroness in Samuel Barber's Vanessa at the Washington National Opera, at the Concertgebouw in Amsterdam under the auspices of VARA Radio, and in Vienna with the Radio-Symphonieorchester. Through her performances as the Old Lady in Candide which she performed at the New York City Opera and recorded on the Grammy® Award-winning disc on the New World label, and as Mrs. Lovett in Hal Prince's critically acclaimed production of Sweeney Todd at both Houston Grand Opera and New York City Opera, Joyce Castle significantly contributed to the acceptance of Leonard Bernstein's and Stephen Sondheim's masterful scores as appropriate repertoire for the opera house. Last season, Miss Castle returned to the Houston Grand Opera for the role of Madame Armfeldt in the Isaac Mizrahi and Matthew Ozawa production of Sondheim's A Little Night Music. She also traveled to Brazil during the 2014 FIFA World Cup Brazil ™ for sold-out performances of Candide (reprising the role of the Old Lady), with Marin Alsop conducting the São Paulo Symphony Orchestra in Sala São Paulo.

Miss Castle is a champion of the music of Jake Heggie. In addition to the central role in his Three Decembers which she performed in Central City, she performed the role of Mrs. Bertram in his opera The End of the Affair at Seattle Opera in a Leonard Foglia production conducted by Yves Abel. At the Lyric Opera of Kansas City, the performances were recorded for commercial release. In December 2005, Joyce Castle gave the world premiere of Statuesque, a vocal chamber work composed by Jake Heggie to poetry written by Gene Scheer. The work was commissioned by the University of Kansas and performed with Mr. Heggie at Dizzy's Club Coca-Cola (the home of Jazz at Lincoln Center), at Roosevelt University and at Chicago's Cultural Center in Chicago, as well as at the Spencer Museum of Art at the University of Kansas. A recording of Statuesque was completed at the state-of-the art Skywalker Sound Studios in January 2007. Flesh & Stone Songs of Jake Heggie was released on the Americus Records label and is a record-selling disc benefiting Broadway Cares/Equity Fights AIDS.

American mezzo-soprano Joyce Castle celebrated her 40th anniversary as a performing artist in the 2010-2011 season with performances of a new vocal chamber work, The Hawthorn Tree, written for her by National Medal of Arts and Pulitzer Prize-winning composer William Bolcom. In the program note, the composer offered insight into her artistry: "Joyce Castle is one of our time's most incandescent acting singers; she can make you laugh out loud or scare you to death by turns, as she wishes." The work was given its premiere with members of The Orchestra of St. Luke's at Morgan Library in New York with additional performances at the Brooklyn Museum, DIA Beacon, and The John F. Kennedy Center for the Performing Arts. The Hawthorn Tree was also performed at the Lied Center at the University of Kansas, on the Cliburn at the Modern series in Fort Worth, Texas and by The Chamber Music Society of Lincoln Center. Reviewing the premiere, Opera News wrote, "Castle is a musician and actor of the highest quality: her ability to convey a thought and its exact opposite at the same time make her delivery of a song compelling and immediate. Singing from memory, she demonstrated a deep connection to the atmosphere, character and emotion of each text, without ever appearing to deliver a planned reading." The Hawthorn Tree will be released on the Americus label in the autumn of 2014.

Joyce Castle was an American in Paris for a number of years, and as a result she is in demand as an interpreter of the French repertoire. The multi-talented singing-actress had the unique distinction of appearing concurrently in two modern French-influenced works at Lincoln Center: Les Dialogues des Carmélites at the New York City Opera contrasted with an original work written by Martha Clarke and Charles L. Mee titled Belle Epoque at the Mitzi E. Newhouse Theater. Miss Castle performed the Prioress in the Tazewell Thompson production of Poulenc's opera at the New York City Opera reprising her Glimmerglass Opera performance. She has also performed the role at Central City Opera, at the Danny Kaye Playhouse in New York City as a guest artist of Mannes College/The New School for Music. She previously performed Mother Marie at Seattle Opera. In Martha Clarke's theatrical work, Miss Castle portrayed a cabaret singer, modeled after Yvette Guilbert, who inspired French artist Henri de Toulouse-Lautrec. The chanteuse performed a selection of songs heard in the Moulin Rouge nightclub Paris in the 1890s. Building on this theatrical experience, Joyce Castle has performed French cabaret programs as gala benefit evenings for performing arts organizations extending from New Mexico to New York. An 'April in Paris' gala performance benefitting Glimmerglass Opera provided a wonderful opportunity for her to collaborate with Sir Richard Rodney Bennett. The mezzo-soprano's official cabaret debut was a sold out appearance with pianist Ted Taylor at New York's Café Sabarsky in fall 2011. The duo was immediately re-engaged for a program of song and Viennese operetta in March 2013. In fall 2013 she performed French cabaret repertoire in a tribute to Michael Feingold which served as a benefit for La MaMa Experimental Theatre Club in New York City.

Prior appearances in standard French operatic repertoire include Madame de la Haltière in Cendrillon which she first performed at the Washington National Opera. This role has since provided her introduction to the Teatro Regio di Torino, the Théâtre du Capitole in Toulouse and at De Vlaamse Opera in Antwerp, all in a Robert Carsen production. At the New York City Opera, she performed Madame de la Haltière in a Renaud Doucet/Andre Barbe production updated to the 1950s. She recreated the role in the Anne Bogart/Eve Enssler Cinderella-Cendrillon in an Off-Broadway production produced by the Music-Theatre Group. L'Opéra Français de New York's Artistic Director Yves Abel invited the mezzo-soprano to perform the role of Geneviève in a production of Pelléas et Mélisande at the Danny Kaye Playhouse in New York City. At the Washington National Opera, Florida Grand Opera, Fort Worth Opera, the Lyric Opera of Kansas City and at Seattle Opera she was seen as the Marquise de Birkenfeld in La Fille du Régiment. In spring 2015, she will make her Pittsburgh Opera debut as the Marquise in Emilio Sagi's production conducted by Music Director Antony Walker.

Twentieth-century German repertoire has also served as a vehicle for Joyce Castle. Miss Castle performed Herodias in Salome in the acclaimed Washington National Opera production staged by Sir Peter Hall. Since then she has performed the role at the Calgary Opera, Manitoba Opera, Opera Columbus, Austin Lyric Opera, Arizona Opera, Florentine Opera and Seattle Opera. Abroad, she performed the role in a Willy Decker production at De Vlaamse Opera. The mezzo-soprano made her role debut as Klytemnestra in Elektra at the Florentine Opera in Milwaukee where Opera News characterized her performances as "a gloriously sung, spellbinding portrait of this guilty queen." Joyce Castle performed Klytemnestra in Elektra again in summer 2013 at Des Moines Metro Opera in performances conducted by David Neely. Other Strauss operas in which she has appeared include Der Rosenkavalier (Annina) at the Metropolitan Opera and Die Schweigsame Frau (the Housekeeper) at the Santa Fe Opera. In addition to von Einem's The Visit of the Old Lady mentioned previously, she also appeared in Zimmermann's Die Soldaten at the New York City Opera. Miss Castle gave her first performances of Fricka and Waltraute in The Ring at Seattle Opera and reprised her performance as Fricka at L'Opera de Montreal.

The singing actress has performed both Kurt Weill's German and American works. An accomplished pianist, Joyce Castle is one of very few singers to play her own piano part while portraying the salty character of Widow Begbick in Aufstieg und Fall der Stadt Mahagonny. She performed the work in staged productions at both the Washington National Opera (directed by Ian Strasfogel and conducted by Gunther Schuller) and in Opera Boston's (directed by Sam Helfrich and conducted by Gil Rose), as well as in a concert version for Radio France. At the New York City Opera, she performed the role of Emma Jones in Street Scene. She was also heard in an all-Kurt Weill program with the Baltimore Symphony conducted by David Zinman and frequently adds Weill songs to her recital and cabaret programs. As a result of her extensive performance history in the Weill repertoire, she was invited to judge the prestigious Lotte Lenya Competition, named for the singing actress who was Weill's wife and muse.

The mezzo-soprano participated in the world premiere of Dream of Valentino by Argento, mentioned previously, and the American premieres of A Night at the Chinese Opera by Weir, The Black Mask by Penderecki, and The King Goes Forth to France by Sallinen at the Santa Fe Opera, and the world premiere of Where's Dick at the Houston Grand Opera (directed by Richard Forman). Miss Castle has appeared in the North American premiere of Poul Ruder's opera The Handmaid's Tale (role of Serena Joy) which was based on the acclaimed novel by Margaret Atwood. The Eric Simonson production was conducted by Antony Walker at Minnesota Opera. At the New York City Opera, she performed Zeresh in the New York premiere of Hugo Weisgall's Esther, and appeared in twentieth-century works The Rake's Progress (Baba and Mother Goose), and The Love for Three Oranges (Fata Morgana). Most recently, Libby Larsen composed the role of Mrs. Which in her new opera, A Wrinkle in Time, for Joyce Castle.

During her fourteen years at the Metropolitan Opera, Miss Castle performed many of the roles in the standard repertoire for her voice including Die Fledermaus (Orlovsky), Hansel and Gretel (Witch), Il tabarro (Frugula), Gianni Schicchi (Zita), Boris Godounov (Innkeeper), Eugene Onegin (Larina), Faust (Marthe), Andrea Chenier (Countess), and Der Rosenkavalier (Annina). Sixty-five of her performances were under the baton of James Levine and many were broadcast and telecast from the theater.

In addition to her Metropolitan Opera performances, she has also performed Orlovsky at the Santa Fe Opera in the Charles Ludlam production, at the Seattle Opera, the Lyric Opera of Chicago, and at the Lyric Opera of Kansas City. In the Italian repertoire, she has performed Mistress Quickly in Falstaff at The New Israeli Opera. She made her Lyric Opera of Chicago debut as the Principessa in Suor Angelica and Zita in Gianni Schicchi. She repeated the role of the Principessa at Chautauqua Opera and at Utah Symphony and Opera. Honoring her Czech heritage, Miss Castle appeared as Jezibaba in Dvorák's Rusalka to her repertoire at the Seattle Opera, and portrayed Eva in the American premiere of Bohuslav Martin?'s Comedy On The Bridge in a translation by Tony Kushner, and in a Maurice Sendak production at Chicago Opera Theater. She returns to Des Moines Metro Opera in summer 2015 adding the role of Buryjorka in Janá?ek's Jen?fa to her repertoire in performances to be conducted by Music Director David Neely.

Very convincing in 'cross-over' repertoire, audiences have enjoyed Joyce Castle's performances of Mrs. Lovett in Sweeney Todd, Meg in Brigadoon, Lalume in Kismet, Katisha in The Mikado, Buttercup in HMS Pinafore and Ruth in Pirates of Penzance in venues from New York to Vancouver. She performed cello-playing Lady Jane in Patience at Glimmerglass Opera and returned for the role of Public Opinion in Offenbach's Orpheus and the Underworld. Her portrayal of Aunt Eller in Central City Opera's 2012 production of Oklahoma! was praised by Opera News "As the wise, ever-present Aunt Eller, veteran mezzo-soprano Joyce Castle – back for her fifth summer in Central City ¬– wore her character like a comfortable old sweater, nailing every laugh line and sounding in fine voice." She made her role debut as the Fairy Queen in Gilbert & Sullivan's Iolanthe with the San Francisco Symphony in staged performances directed by Patricia Birch and conducted by George Manahan. She also joined the Indianapolis Symphony Orchestra in a Gilbert & Sullivan concert led by the distinguished conductor, Raymond Leppard, CBE. The singing–actress performed with Theater am Turm's Grupo Accion in Frankfurt, and toured with the company throughout Europe and Brazil. Joyce Castle has participated in the development of many music-theater projects including a staged reading of Casanova's Homecoming. Arthur Masella directed the New York performances of the musical with a book by Edward Gallardo, lyrics by Sarah Schlesinger, and music by Grammy® Award winner, Mike Reid.

A noted performer of the works of Leonard Bernstein, Miss Castle sang the first performance of Leonard Bernstein's Arias and Barcarolles with Maestro Bernstein and Michael Tilson-Thomas at the piano. She made her debut in Israel with the Jerusalem Symphony in Songfest, and performed the same work with Seiji Ozawa at Tanglewood and in the inaugural Gettysburg Music Festival in Pennsylvania. She appeared in an all-Bernstein program with David Zinman and the Baltimore Symphony, with the Chicago Symphony at the Ravinia Festival, with the Columbus Symphony, Indianapolis Symphony, Jacksonville Symphony, Phoenix Symphony Orchestra, and at Carnegie Hall. Joyce Castle performed Candide with the London Symphony Orchestra in her U.K. debut, and On The Town in her San Francisco Symphony debut. She made her Santa Fe Chamber Music Festival, Bryant Park (NYC), Performing Arts Chicago, Wisconsin Union Theater, Library of Congress, and her Gran Teatre del Liceu (Barcelona) debuts with Kurt Ollmann in a popular program that included Bernstein's Arias and Barcarolles. Miss Castle appeared as soloist in a festival of American works (including Bernstein) sponsored by the Wolf Akademie of Stuttgart.

In demand as a concert artist, Miss Castle gave the New York premiere of Schnittke's Cantata Seid Noechtem Und Wachet with the American Symphony Orchestra at Lincoln Center's Avery Fisher Hall. She also performed in chamber music programs featuring the work of Charles Ives at the Bard Festival and performed and recorded Wolpe's Drei Lieder von Bertolt Brecht with the contemporary ensemble Parnassus. Her New York Philharmonic debut was performing the challenging Aventures et Nouvelles Aventures by G. Ligeti in the first performances of this work at Lincoln Center.

European broadcast performances have included many operas-in-concert for Radio France including Verdi's Oberto: Conte di San Bonafacio, The Old Maid and the Thief, Trouble in Tahiti and The Turn of the Screw. She also performed Mendelssohn's Elijah with Wolfgang Sawallisch at the Accademia de Santa Cecilia in Rome.

Joyce Castle has recorded a wide variety of twentieth century music. In addition to the Americus recording of Heggie's song cycle mentioned above, her recording of the Mother in Menotti's The Consul has been released on Newport Classics and The Medium (title role) was released by Cedille Records. Miss Castle may also be heard on the Grammy Award-winning New World Records recording of Candide as the Old Lady, the Book-of-the-Month recording of Sondheim (singing "Send in the Clowns" and Sweeney Todd selections), the Koch recording of The Music of Stefan Wolpe, and the Albany Records album of the Vocal Music of Joseph Fennimore. Michael Torke and A.R. Gurney's opera Strawberry Fields was recorded with Miss Castle in performance with the Albany Symphony and released on the Ecstatic Records label.

The mezzo-soprano is a graduate of the University of Kansas where she received a B.F.A. and the Eastman School of Music where she earned a Masters of Music degree. She was awarded the 2004 Distinguished Alumni Award from Eastman School of Music.
Research
—
In 2020 I celebrate my 50th year in the world of professional singing. I have sung all my life. My career has taken me to opera houses and concert halls here in the United States, Canada, Europe, Japan and Brazil. I sang 25 seasons at New York City Opera and 14 seasons at the Metropolitan Opera. My repertoire includes nearly 140 roles. I have sung premiere performances of many song cycles and operas by such renowned composers as:
Leonard Bernstein, Dominick Argento, Jake Heggie, William Bolcom... Among the many conductors I have sung with are James Levine, Seiji Ozawa, James Conlon,, David Zinman, Michael Tilson-Thomas,, Kristian Thielemann, Julius Rudel and Edo de Waart. Among my many recordings just released is "The Hawthorn Tree" written for me by William
Bolcom. I received a Grammy for the recording of CANDIDE by Leonard Bernstein. Jake Heggie's cycle of "Statuesque" was commissioned by KU and recorded by Americus Records.
Research interests:
14 seasons as Principal Artist, Metropolitan Opera
25 seasons as Principal Artist- over 160 performances of 21 roles, New York City Opera
World Premieres, US Premieres, NYC Premieres
Worldwide Performances with Major Orchestras, Renowned Conductors
Candide, Grammy winning recording
Teaching
—
I am hired to teach private voice. I also teach a performance class in the Fall semesters
2001-present - Professor of Voice, KU
Teaching interests:
Vocal Performance
private voice
Selected Presentations
—
Castle, J. (4/30/2014). Confessions of an Opera Singer. Kansas City Opera Guild. K.C., MO
Creative Works
—
14 seasons as Principal Artist. 92 performances of 13 roles. 1/1/1985 - 12/31/2000
Fledermaus (Prince Orlofsky). Offenbach. Metropolitan Opera. NY,NY. 3 hours. 10/1/1996 - 11/30/1996
The Visit of the Old Lady - "Claire". G. Von Einem. New York State Theater. NY,NY. 3hours. 3/1/1996 - 4/26/1996. New York Premiere
Candide. 12/31/1986
Awards & Honors
—
Emmy Award, Upper Midwest Regional
Iowa Public Televisiion
2019
Grammy Award Winner
1987
Grants & Other Funded Activity
—
A chamber work, "Statuesque" by Jake Heggie Poems by Gene Scheer Recorded by Americus Records at Skywalker Studios The composer at the piano. Commission from University of Kansas. Submitted 1/1/2002 (12/31/2002). University (KU or KUMC). Status: Funded. Work I premiered here at K.U. and subsequently recorded in California at Skywalker Studios. The album is called Flesh and Stone-vocal work of Jake Heggie. I also performed the work in NYC at Lincoln Center in Chicago at Roosevelt University.
Service
—
I am committed to the power of music, to singing and to "celebrating" in the training of young singers here at the University of Kansas where I received my BFA in Theater and Voice.