Maryemma Graham
---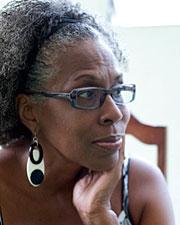 University Distinguished Professor
Biography
—
Expertise and Current Research Activity
I have been at KU since 1998, including one year as the Langston Hughes Visiting Professor. In 1983, I founded the Project on the History of Black Writing, which has been in the forefront of inclusion efforts in higher education for 29 years. It is the only archive of its kind dedicated to literary recovery, professional development, public outreach and digital access.
I am the author or editor of 10 books, including "The Cambridge History of African American Literature" (with Jerry W. Ward, Jr.), the first comprehensive African American literary history to be published in the 21st century. I am perhaps best known for her public outreach in the humanities, where I have facilitated inter institutional networks of peers nationally and globally, and coordinated large-scale public programs that extend the reach of academic scholarship. At KU, I founded the Langston Hughes National Poetry Project. While President of the Toni Morrison Society, I created Language Matters, an international teaching initiative. Most recently, I convened the Haiti Research Initiative reestablishing lines of communication with a country with which KU has had a longstanding relationship. 
I have been a John Hope Franklin Fellow at the National Humanities Center, an ACLS fellow, a Hall Center fellow, a Ford and Mellon fellow. A recipient of more than 15 grants from the National Endowment for the Humanities, 7 of those grants have been awarded since my arrival at KU. Recognition at KU includes induction into the Women's Hall of Fame, and the Steeples Service to Kansas Award.