Rosemary O'Leary
---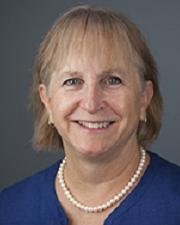 Edwin O. Stene Distinguished Professor
Biography
—
Rosemary O'Leary was appointed the Edwin O. Stene Distinguished Professor of Public Administration at the University of Kansas in 2013, following a 24 year career at the Maxwell School of Syracuse University (Phanstiel Distinguished Chair in Strategic Management and Leadership) and the School of Public and Environmental Affairs at Indiana University-Bloomington (Professor). O'Leary is the author or editor of twelve books and more than 125 articles and book chapters on public management. She was the creator and coordinator of the Minnowbrook III conferences (2008) which assessed the future of public administration around the world. She has won twelve national research awards and ten teaching awards. In 2017 she won the Provan Award for "Outstanding Empirical Theory" given by the Academy of Management, the Frederickson Award for "Lifetime Achievement and Continuous Contributions to Public Management Research over an extended career" given by the Public Management Research Association (PMRA) and the Routledge Award for "Outstanding Contributions to Public Management Research" given by the International Research Society for Public Management (IRSPM). O'Leary was the 2016 recipient of the John Gaus Award (for a "lifetime of exemplary scholarship in the joint tradition of political science and public administration") given by the American Political Science Association and the 2014 recipient of the Dwight Waldo Award (for "distinguished contributions to the professional literature of public administration and in recognition of a distinguished career as author, educator, and public administrator"), given by the American Society for Public Administration (ASPA). Earlier she won the Charles Levine Award (2007) given by ASPA and the Network of Schools of Public Policy, Affairs, and Administration (NASPAA), as well as the ASPA/NASPAA Distinguished Research Award (2004). She is the only person to win three NASPAA awards for Best Dissertation (1989), Excellence in Teaching (1996) and Distinguished Research (2004). An elected member of the National Academy of Public Administration, O'Leary was a senior Fulbright scholar in Malaysia (1998-99) and in the Philippines (2005-06). In 2014 she was an Ian Axford Public Policy Scholar in New Zealand. From 2003 to 2005 O'Leary was a member of the NASA's Return to Flight Task Group assembled in response to the Columbia space shuttle accident. She also has served as a consultant to the U.S. Office of Personnel Management and Federal Executive Institute; U.S. Council on Environmental Quality; U.S. Department of Interior; U.S. Environmental Protection Agency; U.S. Geological Survey; U.S. National Aeronautics and Space Administration; International City/County Management Association; National Academy of Sciences; National Science Foundation; New York State Department of Environmental Conservation; Indiana Department of Environmental Management; U.S. Institute for Environmental Conflict Resolution; and LMI Consulting. O'Leary is President of the Public Management Research Association, taking office in July 2017.
Research
—
I am writing a book with Elizabeth Eppel on "Retrofitting Collaboration Into the New Public Management: Lessons from New Zealand" (Cambridge University Press). A second research project centers on collaboration as a leadership and management strategy.
Research interests:
Public Administration
Public Management
Collaborative Public Management
Collaborative Governance
Law and Public Policy
Administrative and Environmental Law
Environmental Policy
Environmental Management
Conflict Resolution
Dispute Resolution
Collaborative Problem Solving
Retrofitting collaboration into New Public Management governance schemes
Collaboration as a leadership and management strategy
Comparative conflict resolution at the local government level
Teaching
—
My teaching philosophy is grounded in the belief that my focus should be on students as great learners, rather than on myself as a great teacher. I accomplish this by concentrating on four streams in the classroom: knowledge, critical thinking, creative thinking, and an enthusiasm for public service.
Teaching interests:
public administration
public management
collaboration
organization theory
environmental policy
law
Selected Publications
—
Hilton, Rita M, and Rosemary O'Leary. 2018. Leading in Place: Leadership Through Different Eyes. Books. New York: Routledge.
Durant, Robert, Daniel Fiorino, and Rosemary O'Leary, eds. 2017. Environmental Governance Reconsidered: Challenges, Choices, and Opportunities, 2nd Edition. Books. Cambridge: MIT Press.
Osorio, Andrew, and Rosemary O'Leary. 2017. "The Impact of Courts on Public Management: New Insights from the Legal Literature." Journal Articles. Administration and Society 49 (5): 658–78.
O'Leary, Rosemary. 2017. "The New Guerrilla Government: Are Big Data, Hyper Social Media, and Contracting Out Changing the Ethics of Dissent? The 2016 John Gaus Lecture." Journal Articles. PS: Political Science and Politics 50 (1): 12–22.
Imperial, Mark T., Sonia Ospina, Erik Johnston, Rosemary O'Leary, Jennifer Thomsen, Peter Williams, and Shawn Johnson. 2016. "Understanding Leadership in a World of Shared Problems: Advancing Network Governance in Large Landscape Conservation." Journal Articles. Frontiers in Ecology and the Environment 14 (3): 126–34.
O'Leary, Rosemary. 2014. The Ethics of Dissent:  Managing Guerrilla Government. Books. Washington, D.C.: Congressional Quarterly Press.
O'Leary, Rosemary, and Catherine Gerard. 2012. "Collaboration Across Boundaries:  Insights and Tips from Federal Senior Executives. ." Other. IBM Center for Business of Government .
Bingham, Lisa Blomgren, Rosemary O'Leary, and Tina Nabatchi. 2005. "The New Governance: Practices and Processes for Stakeholder and Citizen Participation in the Work of Government." Journal Articles. Public Administration Review 65 (5): 547–58.
Selected Presentations
—
O'Leary, R. (12/31/2014). Collaboration as a SES Strategy. US Senior Executive Service. Washington, D.C
O'Leary, R. (5/31/2014). Collaboration as a Management and Leadership Strategy. Christ Church. New Zealand
O'Leary, R. (4/30/2014). Collaboration as a Management and Leadership Strategy. Australian-New Zealand School of Government. Melbourne, Australia
O'Leary, R. (3/31/2014). Collaboration as a Management and Leadership Strategy. New Zealand Ministry of Education
Service
—
As a professor of public administration, I believe it is my responsibility to share my knowledge with practitioners and to learn continuously about the challenges they face. I do this by offering trainings, presentations, coaching, and workshops, as well as consulting.